Innocent Grey

Homepage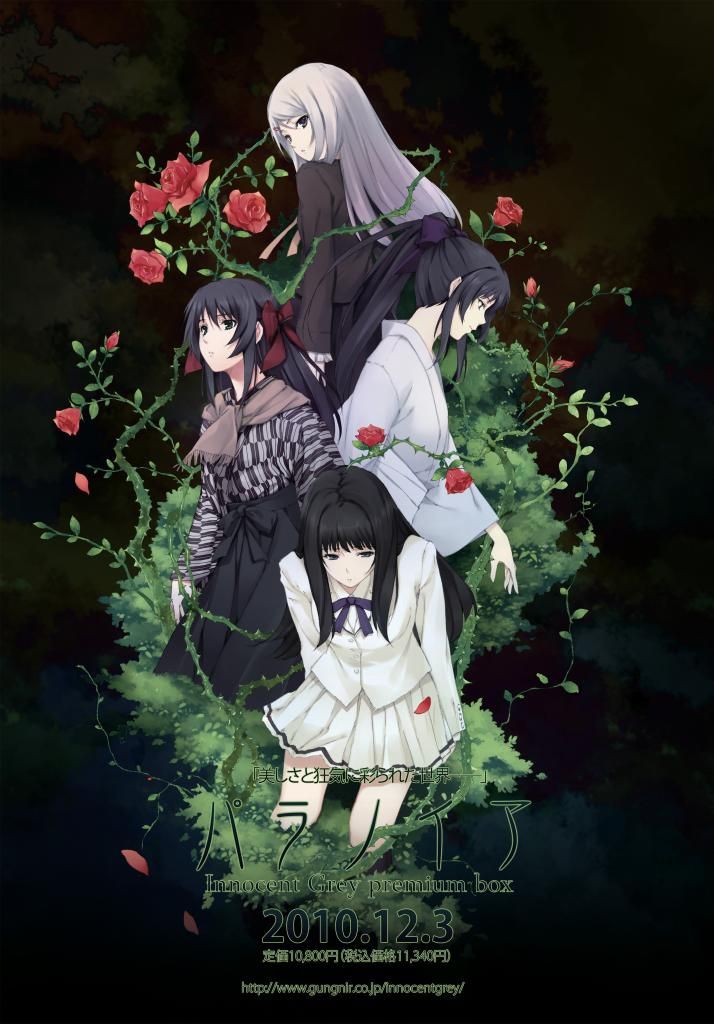 ​
Information:
Innocent Grey được thành lập năm 2005, là 1 trong 2 chi nhánh sở hửu bởi công ty Gungnir. Sau khi Noesis đóng cửa vào ngày 14/08/2014 thì Innocent Grey là chi nhánh duy nhất của công ty Gungnir vẫn còn hoạt động. Khởi nghiệp với visual novel Cartagra, phong cách của Innocent Grey thường là khắc họa những câu chuyện bí ẩn với bầu không khí cổ kính xen lẫn hiện đại của xã hội Nhật Bản sau chiến tranh thế gới thứ 2. (
Trích từ
)
Released:
29-09-2006
Description:
Place: Tokyo in the year 1936.
Kudou Sousuke is a pianist, usually plays at a jazz bar. One rainy day, he gets involved in a peculiar case: he is suddenly attacked by a woman on the way home. He defeats her although he gets injured. The following day, the master of the jazz bar he works at tells him "You are fired. I don't want to employ a murderer."
With this his normal everyday life ends, he can't go back home to his younger sister, Yuzuha anymore. After wandering around aimlessly, he eventually meets a really beautiful, yet really arrogant girl with shady connections offering him temporary protection... at the cost of doing various shady jobs she requires.
Few days later he saves a girl who is attacked by cutthroats. He finds out that coincidentally she's Ayane, the girl who led Sosuke away from the military police on the night when he was attacked by that woman. She promises him that she'll look into the mystery behind what really happened that day to eventually prove his innocence.
Download:
http://hako.re/forum/18-download-visual-novel/10032-pp-pianissimo-ayatsuri-ningyou-no-rinbu-mega.html
CG game để tham khảo:
Released:
04-05-2008
Description:
The year is 1956; a series of bizarre murders rocks the city of Tokyo. Tokisaka Reiji, an ex-cop turned private eye, joins the investigation at the behest of his friend Uozumi Kyozo, a detective in the MPD. At the same time, he takes on a missing persons' case at a private all-girls high school, as well as a mysterious request from a girl named Toko to find her true self. As Reiji frantically struggles to crack the case, he learns that the murders bear an uncanny resemblance to a case in which his own fiancé was murdered six years ago. But try as he might, the body count just keeps rising...
Download:
http://hako.re/forum/18-download-visual-novel/84-kara-no-shoujo-mf-mega-eng.html
CG game để tham khảo:
Released:
11-12-2009
Description:
There is a small village. One day, two university students visit the village to do research about a local legend handed down from generation to generation. However, they are struck by snowstorm and saved by Venio. They are invited to her mansion and a strange wedding ceremony is held there.... If a bride can spend one night in a coffin safely, their marriage will be completed. However, it is all destroyed by someone unknown....
Download:
http://hako.re/forum/18-download-visual-novel/5283-caucasus-nanatsuki-no-nie-mega.html
CG game để tham khảo:
Released:
21-11-2012
Description:
Prewar-era Japan.
Deep in the snowy mountains of northwestern Japan, there exists a settlement called Hitogata, the Village of Dolls. On the night of the festival honoring the clay idol Hinna-sama, a girl is murdered.
The villagers all blame Hinna-sama's curse. One outside the faith has joined in the festival of Hinna-sama, and brought the painful death of the curse down upon themself.
October, 1957.
Two years have passed since Kuchiki Touko's abduction from her hospital room.
Tokisaka Reiji's younger sister saves a man who had tried to commit suicide.
He, too, is the most recent victim of "Hinna-sama's curse"——
Tokisaka Reiji begins his investigation, clinging desperately to the hope that Touko can be saved——
And at the same time, a strange religious group said to have dissolved six years ago begins to move again, to put a certain plan into motion——
The curse will be carried out, whether by the gods or by human hands.
Download [ENG]:
http://hako.re/forum/18-download-visual-novel/19704-kara-no-shoujo-the-second-episode-gd-mega-eng.html
Download [RAW]:
http://hako.re/forum/18-download-visual-novel/1275-kara-no-shoujo-2-mf-mega.html
CG game để tham khảo:
Released:
15-03-2014
Description:
Surrounded by immense walls in the middle of a forest, lies the Saint Angraecum Academy. Suoh Shirahane, a girl with a wounded heart, enrolls in the academy that is teeming with young beauties.
Due to certain reasons, this young girl has always remained indoors, and has never been touched by anyone outside of her family. She's not the most social person, but her new school's experiment, called "Amitié," will require her to make friends with others, as the program's goal is to optimize the ability of communication.
The "friends" provided by the academy, and a faint feeling of love towards them. In the midst of a quiet academy life, the strange disappearance of an academy student occurs…
Download:
http://hako.re/forum/18-download-visual-novel/6205-flowers-gd-mega.html
CG game để tham khảo:
Released:
17-04-2015
Description:
This is the all-ages sequel to FLOWERS -Le volume sur printemps-. In the season of first meetings, a girl with a wounded heart, Suou, found a friend and lover who would accept her, Mayuri. However, Mayuri left the school without telling her the reason. Suou was in denial about her loss, and fellow bookworm Erika was gravely worried and looked for a way to heal Suou's broken heart.
With the early arrival of summer, a girl Chidori transferred into the school. She approached Erika by chance and told her that she was a coward. It was the worst first meeting for the two who would end up being twinned by 'Amitié'.
Download:
http://hako.re/forum/18-download-visual-novel/16405-flowers-le-volume-sur-ete-natsu-hen-mega.html
CG game để tham khảo:
Bonus Fandisc
Last edited: